Ontworpen met een langgerekte baden goed en dek, WTM-02002 is een opvallende tub die een welkome afwisseling voor één of twee biedt. Of het middelpunt van het bad, ten opzichte van een muur of een gedeeltelijke build-in, de stand-alone bad zorgt voor een geheel andere en onderscheiden element. Waltmal gebruikt alleen de hoogste kwaliteit, duurzaam, makkelijk schoon te maken acryl die nooit zal verdwijnen, vlek, of verliest zijn glans. De langdurige, hoogglans afwerking vereist een minimum aan verzorging terwijl zowel geluid en temperatuurisolatie.
1.product Beeld & Tekening: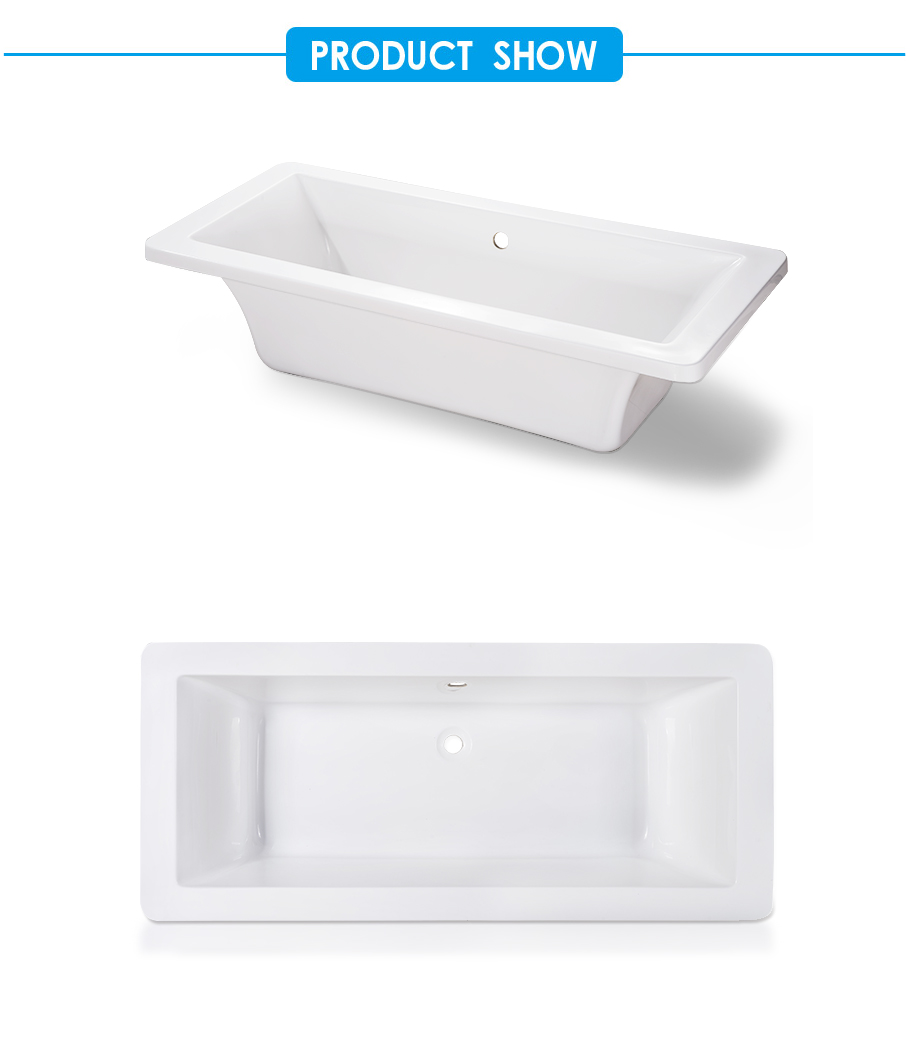 2. Levering
Lever tijd: Na bestelling bevestigd en de borg betaald, moet normaal gesproken 30 ~ 35 dagen.
Vertrek haven: haven Ningbo.
Betalingstermijn: T / T, overschrijving
Handel termijn: FOB, CIF C & F, L / C
3. Verpakking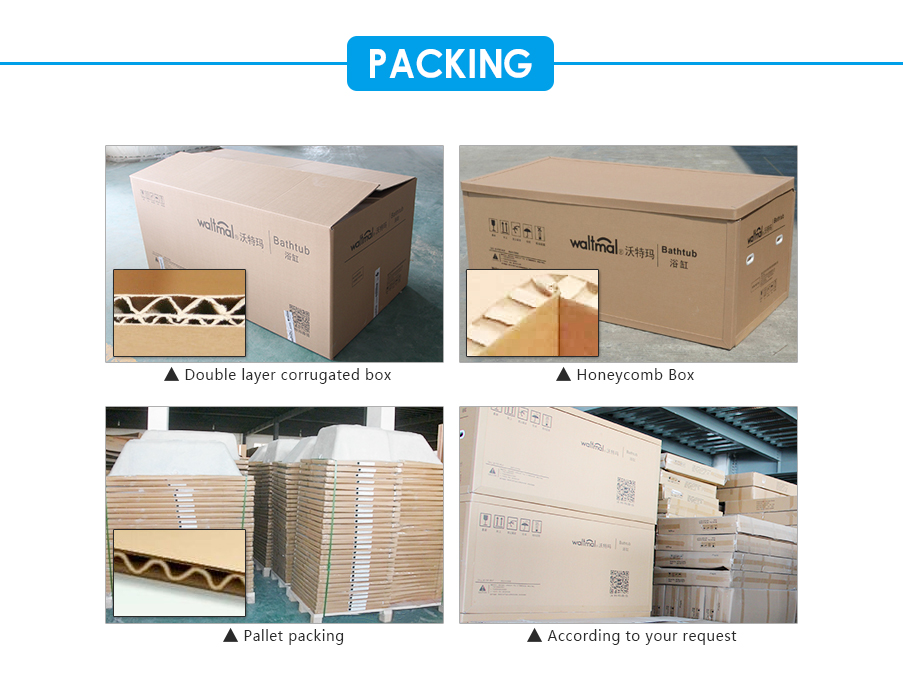 4. FAQ
V: Waarom moet je Waltmal kiezen?
A: Waltmal is een van de toonaangevende fabrikanten in China en hebben 10 jaar ervaring op acryl badkuipen, douchecabines en acryl bases productie, we OEM / ODM voor een aantal van de bekende merken in de Noord-Amerika en Europa, al onze werknemers zijn enthousiast in hun werk ...
Vraag: Kunt u zowel OEM en ODM doen?
A: De meeste van onze producties zijn gebaseerd op OEM, maar we kunnen ook precies volgen wat onze klanten nodig, dat betekent dat we kunnen ODM service te bieden aan onze klanten. Gewoon u ons uw idee, dan zouden we een prototype en tekening te maken, nadat u bevestigde en schimmels betaald, zullen we beginnen om schimmel te openen. Normaal gesproken moet 25 dagen de tijd om een nieuwe mal te maken. Model is bespreekbaar.
Q: Waar is uw fabriek?
A: Onze fabriek lokaliseert in Fenghua, Ningbo, is het ongeveer 40 minuten rijden van Ningbo International Airport.
Q: Wat meer ......
Neem dan direct contact met ons op voor meer informatie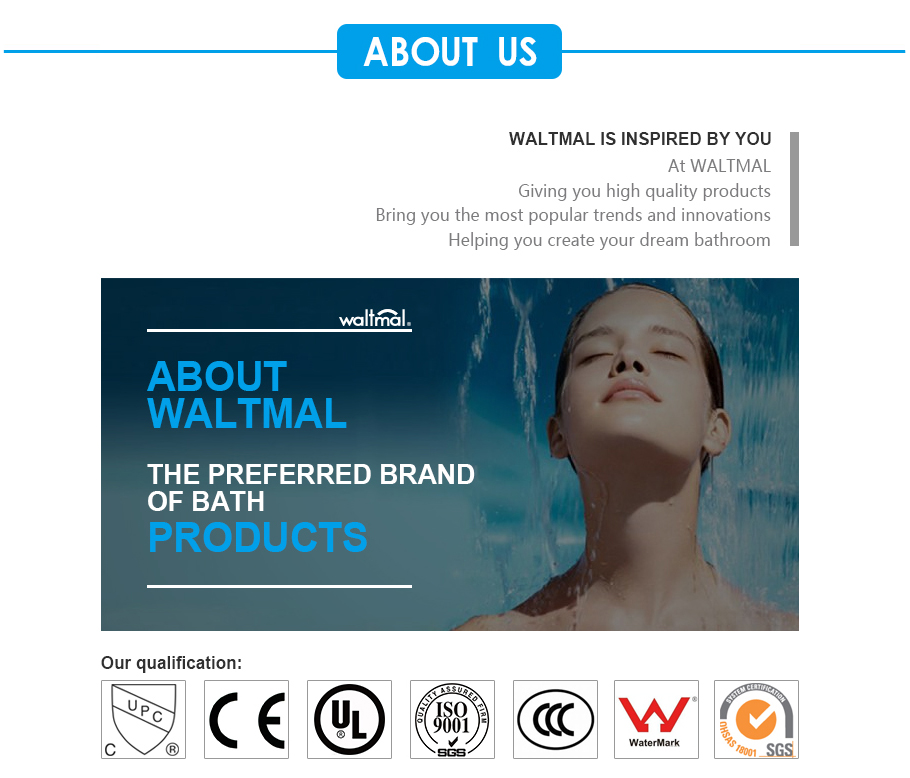 Opgericht in 2005, WALTMAL biedt een breed scala van badkuipen, douchebakken en douchewanden die de unieke stijl te kunnen bieden, duurzame kwaliteit aan onze klanten. Door te voldoen aan strenge kwaliteits- en duurzaamheidsnormen terwijl het aanbieden van een breed scala van product vormen, maten, stijlen en prijzen. WALTMAL heeft onafhankelijke ontwikkeling vermogen, kunnen we niet alleen nieuwe mallen te openen volgens de trend op de markt, maar ook kunnen we elke maat vormen. WALTMAL streeft ernaar om uw merk van de keuze voor badproducten.
Product Categorie : vrijstaande Tubs